Here we are once again with what I think is my two favorite things in ONE!! Candles and pretty Gems! Now these aren't your Walmart Gems!! These are amazing and you could get a Diamond. So I really hope you enjoy this giveaway and get excited for it because I AM!! Good Luck!
When I was researching
soy candles
I came across a Precious Gem candle at Sandsational Sparkle. The more I read about it, the more I had to have one. I love candles and gems, I mean really, who doesn't? In every Precious Gem candle, there is a gem inside worth $20 to $5,000, and in every 1,000 Precious Gem candles, there is a diamond inside (1.2 carat).
These candles are worth the price of purchase for the scent alone. Mine was wonderful. I received a Lavender Lane scent (doesn't it sound delightful) soy candle for my product review. It took me a week to burn it down and for me that is a record for candle burning time. The most I've ever had a candle burn for was 3 days; of course that was before I received my Precious Gem candle. I have at least one soy candle burning all the time. In fact, the only time I don't have a candle burning is if I'm away from home. Wonderful candle scents can relax me like nothing else can.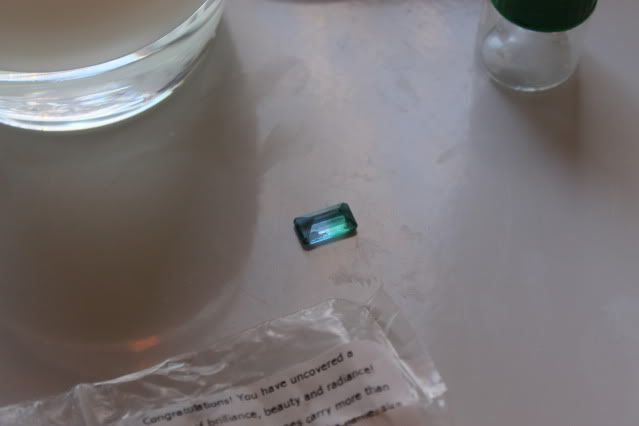 It took me two days before I was able to retrieve my gem from the candle and when I did I was really pleased with my discovery. The gemstone was kept nice and safe in a small glass vial. Following the website that was included in the candle package, I discovered that it is a
Bali Topaz
. It's octagon in shape, 12x7 mm and AAA quality. I think it's beautiful and would make a lovely ring. I haven't made up my mind yet to have the Topaz turned into a ring or not. It's not an expensive gem, however, I think it's lovely. If I decide to have my stone turned into a ring I will be sure to share the photo with you on my facebook page. If you would like a chance to try to win a Precious Gem candle, please enter using the rafflecopter form below. Follow the link in the form to claim bonus entries for the Ultimate Family Mystery Giveaway. US 18 + to enter.
CONNECT WITH SANDSATIONAL SPARKLE
Facebook
a Rafflecopter giveaway
Disclosure: I received one or more of the above mentioned products for free to help facilitate my review. Terri's Little Haven is not responsible for shipment of prize. This giveaway is sponsored by Sandsational Sparkle and is not affiliated with facebook.